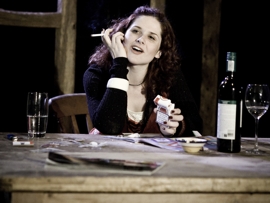 27 May – 21 June 2008
Mon – Sat 7.30pm Sat Matinee 2.30pm
Tickets £13 (£11 concs)
This production has now finished.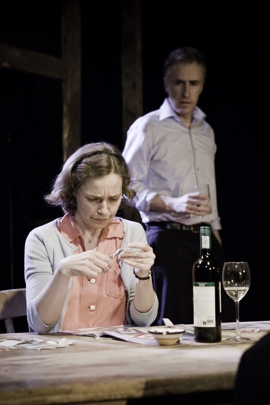 The Country
By Martin Crimp

"A classy revival …. Beautifully detailed performances"
The Stage

"A finely wrought intriguing thriller from one of our country's foremost writers… The version delivered here is likely to stay with me for some time to come…."
Culture Wars

Richard, a successful GP, and Corinne, his wife, have recently moved to the country. They are looking for a fresh start, stability and rural bliss. Then late one night Richard discovers an unconscious young woman by the roadside and brings her home. Who is she? What does she want? What secrets does she hide? In award winning playwright Martin Crimp's urgent thriller the truth emerges over the course of a sultry summer night.

"Gripping escapism at its finest... Captivating from start to finish"
Fringe Review - 5 Stars

Premiered at the Royal Court in 2000, The Country is a clever look at the underbelly of modern marriage, slyly playing with audience sympathies and relentless in its depiction of the power struggles embedded in human relationships.



Tabard Theatre
2 Bath Road
London
W4 1LW
Box Office: 08448 472 264
Enquiries: 0208 995 6035