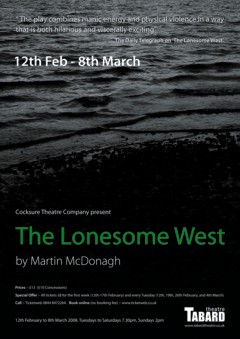 12th Feb – 8th Mar 2008
Tues – Sat @ 7.30pm
Sundays @ 2pm
Prices :- £13 (£10 Concessions)
Special Offer:- All tickets £8 for the first week (12-17th February) and every Tuesday (12th, 19th, 26th February and 4th March)
The Lonesome West
By Martin McDonagh
12th February – 8th March 2008
Tuesday – Saturday @ 7.30pm
Sunday @ 2pm

4 STARS - TIME OUT
Director: Antonia Doggett. Designer: Regina Fraas
Cast Includes: Francis Adams, John Giles, Georgia Stephens, Johnny Vivash.
"A child seen him. Seen him sitting on the bench on the jetty, a pint with him, looking out across the lake to the mountains there. And when his pint was done he got up and started walking, the clothes still on him, and didn't stop walking. No. 'Til the poor head of him was under. And even then he didn't stop."
'The Lonesome West' takes us on a bleak journey to Leenane, Co.Galway, 'the murder capital of fecking Europe'. Two adult brothers, Coleman and Valene Connor, fight like 'a pair of fecking oul women' over any petty grievance. Just as they had before Coleman shot their dad in the head because he insulted his hairstyle. Until one day a young priest 'who never achieved anything…. in fact the opposite' does something to stop them. Something that breaks the heart of a sweet nobody, who loved him…
Martin McDonagh is a critically acclaimed playwright whose works also include 'The Beauty Queen of Leenane', 'A Skull in Connemara', 'The Cripple of Inishmaan' and 'The Pillowman'. McDonagh won the George Devine, Writer's Guild, a Lawrence Olivier and four Tony Awards in 1996 as well as the Evening Standard Award for Most Promising Newcomer.
Antonia Doggett, Director of Cocksure, trained in Poland with
Song of the Goat Theatre
before working as Assistant Director at the
National Theatre of Greece.
Debra Overton, Co-Artistic Director of Cocksure, has recently worked as Art Director for
Echo Beach/Moving Wallpaper, Waking the Dead and Bad Girls.
Sound and music design is by Matt Eaton, who has recently created part of the original soundtrack for '
Hallam Foe
'.
Prices :- £13 (£10 Concessions)
Special Offer:- All tickets £8 for the first week (12-17th February) and every Tuesday (12th, 19th, 26th February and 4th March)
Tabard Theatre
2 Bath Road
London
W4 1LW
Box Office: 08448 472 264
Enquiries: 0208 995 6035