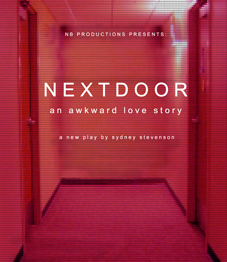 Next Door
Mon 12 - Sat 17 January 2015
7:30pm
Saturday matinee 3pm

Tickets £10

Running time is Approximately 70 minutes. There is no interval

BOOK NOW

If you are having difficulties booking online or want to enquire about availability its best to drop us an email info@tabardtheatre.co.uk

NEXT DOOR
by Sydney Stevenson

In a society driven by social media and the virtual world, loneliness is even more prevalent. What is it to be us in the real world, away from modified, on-line edited profiles, second hand sound bites and selfies. How do we live happily in our own skin?

The guy saves the girl. An age old tradition. But what if itís the other way around. And what if the girl is ridiculously awkward? Two neighbours are thrown together knowing nothing about the other with weird and somewhat entertaining consequences. An awkward yet up to date love story!

The UK premiere of a new play by up and coming writer Sydney Stevenson. Playing at the Tabard Theatre for a strictly limited run.