Alces Productions presents
The UK Premiere of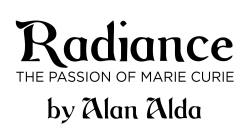 Cathy Tyson is the perfect Madame Curie. With no wig, barely any makeup and a plain frock, she somehow manages to be every photograph or print we've seen of the woman and she dominates from the first moment on stage ChiswickW4.com

With a stunning performance from Tyson, this play explores the way in which Marie's personal life mirrored the famous dichotomy of her professional one. What inspired and drove Marie was the very thing, which led to her undoing -
an expansive and enlightening production. Afridiziak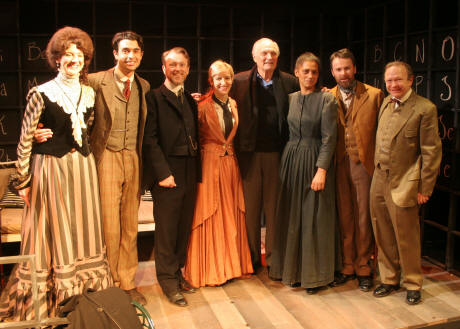 Alan Alda with the cast on the Tabard stage (Taken 11 Feb 2015)

In the intellectual and creative ferment of early 20th century Paris, Marie Curie and her husband, Pierre, struggle through endless hours of physically dangerous work in order to master the secrets of radiation. Reaching a remarkable breakthrough, they share a Nobel Prize, the first ever granted to a woman. But the world isn't fully ready to accept Marie's incredible achievement. After Pierre's death, a love affair with the brilliant, unhappily married physicist Paul Langevin rescues her from depression, but at the cost of a public scandal. It threatens to end Marie's career just when she might be awarded an unprecedented second Nobel Prize.
Legendary 7-time Emmy Award-winning actor, screenwriter and bestselling author Alan Alda, in his first full-length stage drama, beautifully captures the emotional turmoil of a woman forced to choose between love and her life's work.

An intriguing perspective on the life of one of science's most significant minds The Stage
Following on from its world premiere in Los Angeles, RADIANCE: The Passion of Marie Curie is brought to the Tabard by veteran New York and London producer/director Mark Giesser, whose three previous Tabard productions received extensive critical acclaim.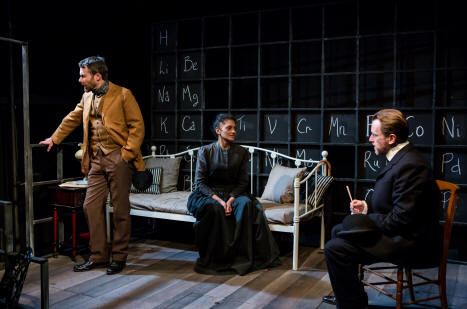 Cathy Tyson, who starred alongside Bob Hoskins in the award winning film Mona Lisa, plays Marie Cure and said: "It's exciting. It's challenging and I'm looking forward to the period costume. Her drive and passion interests me. Even today it's still difficult for women in certain areas to flourish. And there's romance — I've played very few romantic roles."

The Band of Gold and Emmerdale star also said it was great that producer and director Mark Giesser had adopted colour-blind casting: "I look nothing like her. They just want the right person for the job."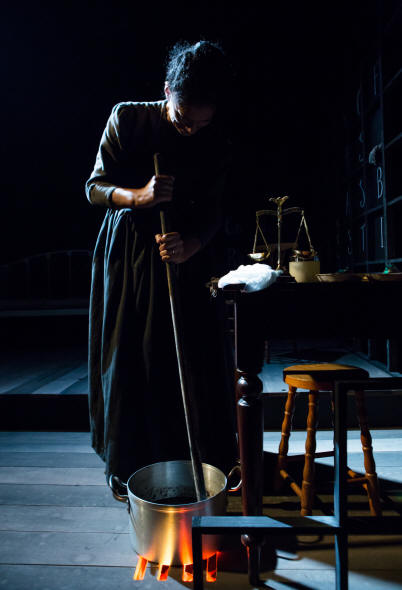 The press on RADIANCE: The Passion of Marie Curie
'Juicy, gaslit melodrama … illuminates the challenges that Marie Curie faced in pursuing a career in the sciences at a time when it was virtually unheard of for women to take prominent roles in academic or public life.' The New York Times
'Alan Alda has written an intelligent, lively play about the first female professor at the University of Paris and the first person to receive two Nobel Prizes. … In his debut as a playwright, Alda shows he has a talent for words.' Examiner.com
'Alda's sharply written script shines a light on the precarious nature of love and marriage, set against the backdrop of remarkable discoveries in science.' Theatermania
'This is a fine play … The luminous subject alone should get you to the theatre.'
LA Arts Beat
"Radiance: The Passion of Marie Curie" is presented by special arrangement with SAMUEL FRENCH, LTD
Casting by Richard Evans CDG

















.