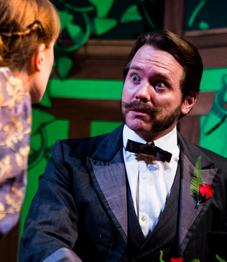 Code of the West
16 October - 9 November
Tickets £16/£14
Tue - Sat 7:30pm
No performance Fri 1 November
Extra Matinee performances
Sat 2 Nov & Sat 9 Nov 4pm


BOOK NOW

Alces Productions presents the UK premiere of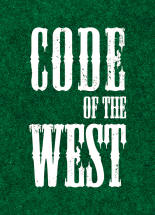 Written and directed by Mark Giesser,

A comedy about the ultimate California dream

'Code of the West is a strong play.'
'The cast may be small but leaves an impact. Each performance is thoroughly deserving of credit, and none more so than David Janson's portrayal of Norton.'
'The chemistry felt between the various pairings is undeniable'
The Public Reviews

'Writer Mark Giesser has created a gentle comedy that works well in the space at the Tabard .. the play is performed well, makes the audience laugh, and is thoroughly enjoyable.'
'David Janson is outstanding, particularly his natural flow and poise.'
West End Wilma (4 stars)

'It's a fun night of theatre with some great lines that hold currency today.' 'Go west. Good comedy is there.'
The American Londoner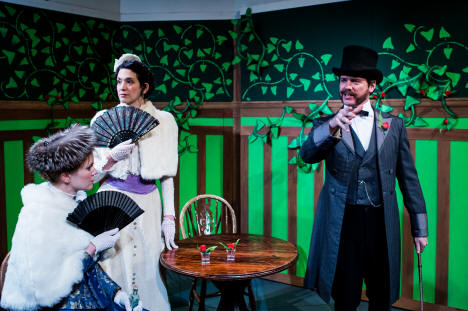 Manipulative media, bankers behaving badly, and plans for a royal wedding … welcome to Victorian San Francisco.

In this strangely familiar world, an eccentric Englishman rules as Norton the First, Emperor of the United States. At least he thinks he does. And his new dynasty needs an heir. So when a Russian Countess and her English secretary suddenly arrive and announce that they are ready to talk marriage, it could be time for the wedding of the century. That's if the Emperor's official imperial bank doesn't collapse, or his official imperial newspaper doesn't cause a diplomatic incident. Or he doesn't get sent to prison.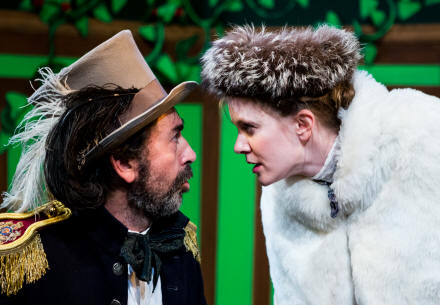 Based loosely around the incredible life and times of Joshua Abraham Norton - the self-proclaimed Emperor of the United States, a loveable fantasist who, having had his whimsical declaration of leadership declared in the San Francisco Bulletin, warmly engaged a whole city who humoured to the degree that currency was printed in his name and accepted at the establishments he frequented.

A man whose daily street expositions (including the need for a bridge across the bay…) were listened to with amused interest by the local townsfolk as he passed through 'Frisco in his instantly recognisable blue military uniform and feathered cap inspecting the condition of cable cars and sidewalks.

A man San Francisco so took to its heart that on his passing – after some 21 years 'in post'- 30,000 took to its streets to mourn, whose legend has come to be immortalised in the writings of Mark Twain and Robert Louis Stevenson and whose tale now makes a UK stage debut.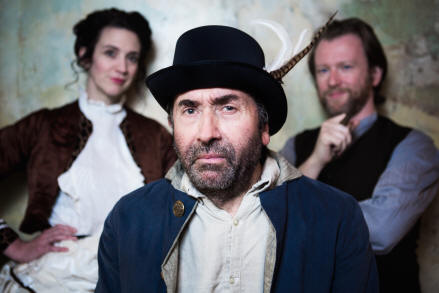 A five strong ensemble lead veteran New York and London playwright/director Mark Giesser's latest lightly farcical comedy which tells the tale of one of England's least known true eccentrics. Earlier this year, the premiere of his Good Morning Alamo! at the Tabard received universal critical acclaim. Zoe Teverson and Stephen Cavanagh make a welcome return to Alces Production's latest presentation:

DAVID JANSON (Emperor Norton): David's career in British stage and television spans an extensive range of work from his early days with the Royal Shakespeare Company to the recent No. 1 tour of KEEPING UP APPEARANCES. Television series include 'ALLO 'ALLO! (Herr Flick); KEEPING UP APPEARANCES (Michael the postman); GET SOME IN (Ken Richardson); DOWN TO EARTH; THE RUSS ABBOT SHOW; BRUSH STROKES; EVER DECREASING CIRCLES and many others.

ZOË TEVERSON (Claire Greenleaf): Zoë's extensive stage work includes the lead role of Charlotte Vernon in Mark Giesser's acclaimed premiere of GOOD MORNING, ALAMO!, and the bewitching Gillian Holroyd in his acclaimed revival of BELL, BOOK & CANDLE. Feature film and television appearances include Sky Film's SLEEPING WITH FISHES and BBC Arena's SUBTERRANEAN.

LUCINDA FORTH (Violet Allerton): Lucinda just finished performing on the West End in THE MOUSETRAP, and also toured with Stephen Daldry's 2012 production of AN INSPECTOR CALLS. Other recent work includes roles with the Cambridge Shakespeare Company, and the BBC docudrama OPERATION MINCEMEAT.

WILLIAM FINDLEY (T. Preston Booth): William's recent stage credits include Etienne Plucheux in A FLEA IN HER EAR at the Old Vic, and Lt. Tony Goldsmith in ADOLF HITLER: MY PART IN HIS DOWNFALL (Bristol Old Vic and national tour). Feature film and television include the role of Matthew Stranger in EASTENDERS, and the films ARCHIE and DIAGNOSIS SUPERSTAR.

STEPHEN CAVANAGH (Frank Tremont): Stephen's 2013 stage appearances include MELMOTH THE WANDERER at the Edinburgh Festival, and the lead role of Andreas Gerber in Mark Giesser's GOOD MORNING, ALAMO!; he also teamed with Mark and Zoë Teverson to play the bewitched publisher Shep Henderson in BELL, BOOK & CANDLE. Feature films include 2013's DREAM ON and 2012's KRISH & LEE.

Creative support comes from Scenic Designer, Christopher Hone; Costume Designer Giulia Scrimieri; Lighting Designer Seth Rook Williams; Assistant Director, Rishi Chatrath; and Casting Director, Richard Evans.

The press on Good Morning, Alamo!

'Playwright Mark Giesser's satirical take on the events leading to the infamous Battle of the Alamo … lights up with moments of inspired lunacy' Timeout 4 Stars

'Inventive and intelligent satire … Uber-talented cast … an exemplary piece of new writing' The Stage

'Is Mark Giesser the Joan Littlewood of our times? Certainly' A Younger Theatre

The New York Times on Code of the West

'It was Zane Grey who popularized the notion that there was a "code of the West". Mark R. Giesser … has the sound instinct to ridicule it in mock battles of wit among several characters … in Mr. Giesser's play the code decrees the success of whoever can think fastest and most deviously to his or her own advantage.'