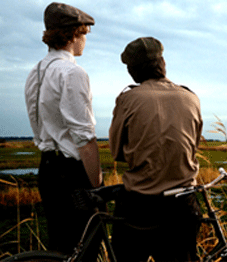 The Custard Boys
10 April - 12 May 2012
Tue - Sat @ 7:30pm
Sat Matinee 4pm
Tickets £16/£14

Not suitable for children
under the age of 12


BOOK NOW



Boys of the Empire Productions present
The World Premiere of
THE CUSTARD BOYS
Based on the novel by John Rae
Adapted and directed by the Bafta-winning
Glenn Chandler, creator of Taggart

5 STARS
'Chandlerís brilliant observation of boysí behaviour... Like a darker, more grown up version of Just William...This production could easily work on a much bigger stage in the West End....
Whatsonstage.com
Read the full review here

A play about love, war and grown-up stuff

Five London schoolboys are evacuated to a Norfolk seaside village, far from Hitler's bombs.
They want to fight for England but are too young to join up and too old to wait. They join
the school army cadet force and learn to fire rifles, they form a gang and play at being
soldiers. But it is not real war.

"An excellent evening with performances to match...the pace zipped along throughout." What'sOnTheFringe.com

"Comparisons between Lord of the flies are inevitable. What makes The Custard Boys even more shocking is that it occurs in a civilised society"
UKTheatre.net

"The talented young ensemble excels...the cast scamper around Cecilia Carey's boys own adventure set with terrific invention." The London Magazine

"Strong character performances...Chandler's easy direction allows the ensemble to switch effortlessly between realism and fantasy to maintain pace and interest throughout." The Stage

"Excellent...projects the theme that war is war, something bloody and terrible, that in real life it isn't a glorious game."
British Theatre Guide

"A strong story about the wastefulness of war. An entertaining thought-provoking evening." ChiswickW4.com OnLine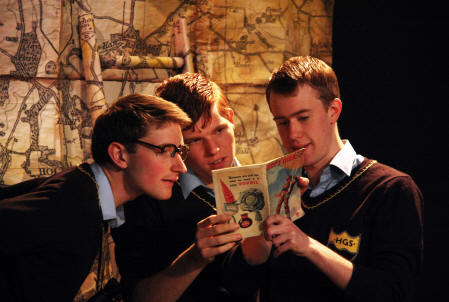 Sixteen year old John Curlew dreams of being a Spitfire pilot. Mark Stein is Jewish and
a pacifist refugee who hates the war and longs for it to end. When these two boys are
thrown together and form a romantic bond, their friendship splits the group and invites
fear and prejudice. But it is a challenge to a rival gang which becomes the catalyst for a
sinister train of events. While men die in their thousands overseas, in a small corner of rural
England a group of schoolboys embark on a final war game which will lead ultimately to
tragedy.

The Custard Boys was filmed in the 1960s as Reach for Glory and is a story of sexual
awakening, loyalty and betrayal which was compared upon publication to Lord of the Flies.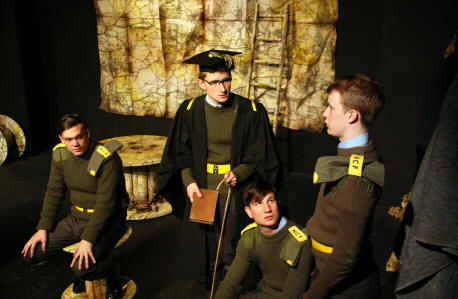 Glenn Chandler began his career in theatre before being invited to create and write a detective series for Scottish Television. The first story was called Killer, but this evolved quickly into Taggart which became the longest running television detective series in the world and won a Bafta for his special contribution to Scottish broadcasting. He has also written true-crime dramas for Yorkshire Television and a number of novels. He returned to theatre in 2008, producing his own play Boys of the Empire at the Edinburgh Festival.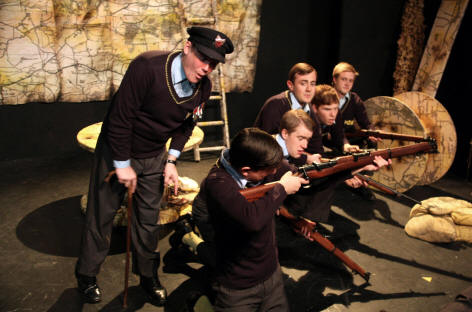 Boys of the Empire Productions had its genesis in Edinburgh in 2008 with Glenn Chandler's
biting Iraq war satire Boys of the Empire, and a revival of Patrick Wilde's ground-breaking
What's wrong with Angry? Scouts in Bondage followed at the Kings Head, and last year
Cleveland Street The Musical played to sell out houses at Above The Stag. www.boteproductions.co.uk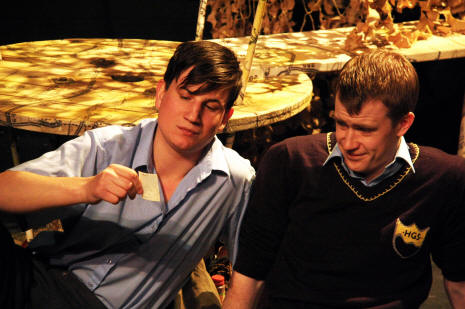 Trailer for The Custard Boys



Teaser Trailer for The Custard Boys





Tabard Theatre
2 Bath Road
London
W4 1LW
Enquiries: 0208 995 6035