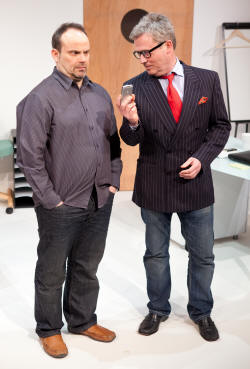 Pitch Perfect
21 Feb - 17 Mar 2012
Tue - Sat 7:30pm
Tickets £14/£12

This show is not suitable for
children under the age of 15

The performance is approximately 2 hours long including a 15 minute interval


BOOK NOW


This production of Pitch Perfect has been sponsored by Rymans
and Magic Whiteboard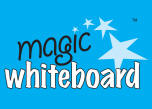 Act Naturally Ltd presents
The Premiere of a new comedy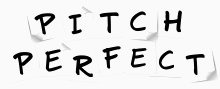 Written and Directed by the award-winning
Jonathan Guy Lewis

Pitch Perfect is set in high-profile West End media agency: All Brand BACKSLASH New.

Phil and Chris used to be the dream team picking up all the industry awards... but now, they find themselves under constant threat from Rodge and Barney, who are only a short walk 'down the corridor'.

Are they past their sell-by date?!

Can Alex Judge, New York's 'hot & top suit', save the day?!

'The play's best feature is its language: whizzed-up gobbledygook is spouted like Biblical truth as the characters rib and taunt one another. It runs the gauntlet from the brain-melting hyper-shite of 'emotionalising everyness' to the wry 'power corrupts and PowerPoint corrupts absolutely - it's certainly a good laugh. Timeout

'A strong script paints the advertising industry as a world of schmooze, sexism and fakery, with creative jargon drawing laughs from the audience. ' The Stage




We'll find out with the pitch for Jerri Co. New York wants this one bad, but Phil, Chris and Alex already face stiff competition from The Saliva Group.

Pitch Perfect paints a comic picture of the excruciating tensions that characterise the business world of pitching.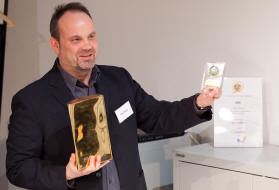 Jonathan Guy Lewis's previous work includes the critically acclaimed, Our Boys and the Sunday Time 'Must See', I Found My Horn, described by the Daily Telegraph as 'a shot of pure joy'.


Tabard Theatre
2 Bath Road
London
W4 1LW
Enquiries: 0208 995 6035