Pulling Focus Ltd
in association with Hot Tubs and Trampolines
presents the Tabard Theatre's production of

PLEASE WAIT PATIENTLY
by Natasha Collie, directed by Matt Harrison

'In this sweet tragicomedy, excellent physical theatre and witty storytelling combine in an astonishingly powerful production all set in a lost property office. This is a truly wonderful show'
Onestoparts


In the summer of 2008 a suitcase in the lost property office of Travel Company 'First' was opened to reveal 30 years of love letters between a mystery couple – with this intriguing true story as a stimulus 'Pulling Focus' & 'Hot Tubs and Trampolines' fuse music, new writing and physical storytelling to create a quirkily comic, classically modern love story.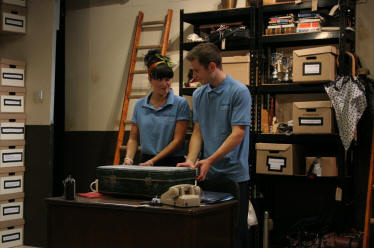 Welcome to the world of the lost property office where lost items attract lost people. But in the home of the forgotten is out of sight ever truly out of mind? When a suitcase is opened to reveal a lifetime of love letters between a mystery couple heads and hearts begin to turn.
Join Hot Tubs and Trampolines in a pen and paper love story for a twitter generation and explore what lies behind the precious, plastic and purposefully left. Is it better to have loved and lost or spent a lifetime patiently waiting?

Hot Tubs and trampolines was formed by graduates of East 15 Acting School in 2008, Inspired by the likes of Gecko, Kneehigh and Frantic Assembly our mission statement is to make playful ensemble theatre that affects as emotionally as it does aesthetically and inspires an audience to see the beautiful in the mundane.' Please Wait Patiently' is the follow up production to 'Table 23' which played to critical acclaim at the Edinburgh Festivals Guilded Balloon.
The Press on Table 23

"Audacious story telling. This stunning cast navigate the tightrope between comedy and tragedy effortlessly" (3 Weeks) ***** Pick of the week

"Inventive, promising piece of work from a young seven strong ensemble" (The Stage)
"Quicksilver physical theatre, an ambitious and eerie portrait of the delirium of loss" (Metro)

"I saw 27 shows in 5 days and this one really blew me away" (EdFringe.com)

Directed by Matt Harrison who brought together the double' Off West End Award' nominated Pirates of Penzance at the Tabard (Offies 2012 Best Production & Best Ensemble), written by National Youth, Write to Shine and Chichester Young Playwright writer Natasha Collie (Gold Award for Best Scripted Programming at the BBC Radio 1 Student Radio Awards 2009 & 2010) and featuring music from composer Jak Poore whose recent credits include work for the BBC, Channel 4 and the theatre production of Skellig – New Victory Theatre – Broadway. Please Wait Patiently explores the very essence of the relationships that connect us all. In a world where things are easily lost sometimes you have to be bold to keep a hold of the most precious.